Type here your Yanec article number to quickly find your Yanec product.
for laptops - netbooks - tablets
Internal batteries
External batteries
AC adapters
Car chargers
Universal AC adapters
Universal chargers
laptop adapter display stand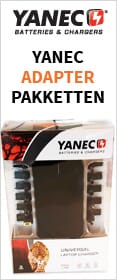 The Yanec laptop adapter display stand has been made out of solid cardboard and it hardly occupies any space in your store. Nevertheless it offers space to 3x11 Yanec laptop adapters. Amongst them you'll find 3 universal adapters with 40, 75 and 90 Watt power (YUA002, YUA003 and YUA004) and 8 adapters appropriate for a large number of laptop types, with lifelong warranty. The adapters in the Yanec display cover 95% of all laptop types! The Yanec adapters are presented in attractive packagings, which perfectly fit in the three shelves. The display stand has an elegante appearance and it is extremely compact (dimensions (wxdxh) 55 x 30 x 1m70), so it will fit in every store. Order here your Yanec adapter display stand!
for photo/video - gsm/smartphone - PDA
Telephone batteries
Camcorder batteries
Camera batteries
PDA batteries
Universal chargers
Battery charger kits
for powertools
Powertool batteries
beamer lamps
Beamer lamps
The brand YANEC® represents an outstanding experience in development and production of energy products for mobile devices. The complete YANEC® assortment comprises batteries, AC adapters, car chargers and battery charging devices for a.o. laptops, tablets, smartphones and cameras, but also batteries for powertools as well as beamer lamps. Yanec® always supplies high quality at favourable price.
YANEC® batteries und chargers have been carefully developed and profoundly tested in the fields of voltage, capacity, compatibility and safety

; only in this way these products can meet the specifications of the manufacturer of the original device. In its batteries YANEC® applies the newest technologies; only recently produced battery celles are selected. That's why the performances of a YANEC® product exceeds in many cases those of the original.
YANEC® offers for all of its batteries and its (universal) AC adapters for laptops, netbooks and tablets a 2 year warranty; for camera-, PDA- and GSM batteries the warranty period is 3 years. For brand-specific laptopadapters (products with article number YNA**) YANEC® offers even a lifetime warranty*. Besides that YANEC® offers a unique 'connected equipment' warranty.